Emergency Preparedness and Response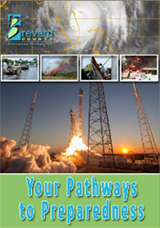 We hope that you have already connected to various information sources, including the Brevard Emergency Operations Center.  For the most up to date information on evacuations, shelters, etc., visit Brevard County Emergency Management and www.facebook.com/brevardeoc.
You can also text 'follow brevardeoc' to 40404 and receive text messages as they release new information.  Most important, remember… 2-1-1 is a community information hotline;  If you need assistance, please call them.  We will continue to add useful information, as received.
Disaster Unemployment Assistance
The Florida Department of Economic Opportunity (DEO) has formally announced Disaster Unemployment Assistance.  Individuals in designated-disaster areas must file Disaster Unemployment Assistance (DUA) applications by October 13, 2017.  DEO instructs those affected that, "to file a DUA claim go to www.floridajobs.org or call 1-800-385-3920.  Customer service representatives are available Monday through Friday from 8:00 a.m. to 5:00 p.m. Eastern Standard Time to assist claimants. For DUA claims information call 1-800-204-2418 and choose option 2 to speak to a customer service representative."
Other helpful links:
Alert Brevard – http://www.brevardcounty.us/EmergencyManagement/AlertSignUp
National Hurricane Center – www.nhc.noaa.gov
National Weather Center – Melbourne – www.weather.gov/mlb
Federal Emergency Management Agency (FEMA) – www.fema.gov
Florida Virtual Business Emergency Operations Center – www.flvbeoc.org
Florida Division of Emergency – FloridaDisaster.org
Emergency Numbers
To report an emergency: 911
Disaster Unemployment Assistance: 1-877-US-2JOBS
FEMA Disaster Assistance: (800) 621-3362
Florida's 2-1-1 Help Line: 211
Florida Emergency Information Line: (800) 342-3557
Florida Power and Light: (800) 468-8243
State Volunteer and Donations: (800) 354-3571
Price Gouging Hotline Attorney General: (866) 966-7226
Has Your Business Been Hit by Disaster
The North Brevard Economic Development Zone offers us tips on how to re-open a business after an emergency event – Stay Open For Business (OFB-EZ) (.pdf).  Access the recovery Quick Guide for Small Businesses, sponsored by the U.S. Chamber of Commerce Foundation.  Additional information is available at www.flchamber.com/florida-hurricane-information. Finally, you can refer to the Small Business Administration's Prepare My Business, for a complete business continuity plan.
We will continue to post updates from the various information sources on our Facebook page, www.facebook.com/titusvillechamber.  You can also use that as a communication tool with Chamber staff (send a message to the page).
More Business Resources
Nation-wide information is available at the National Disaster Help Desk – 888-MY-BIZ-HELP (888-692-4943)
As always, if we can be of assistance, don't hesitate to contact the Titusville Chamber.  We can be reached at 321-267-3036.
Important Dates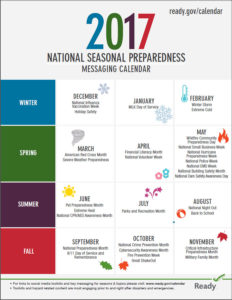 Hurricane Season (June – November)
National Emergency Preparedness Month (September)
National Terrorism Awareness Month (September)
National CyberSecurity Awareness Month (October)
National Disability Employment Awareness Month (October)
Critical Infrastructure Preparedness Month (November)
America Recycles Day (November 15)
National Volunteer Week (last week of April)
National Building Safety Month (May)
National Hurricane Preparedness Week (third week of May)
More important dates from 2017 National Seasonal Preparedness Messaging Calendar (.pdf)