Playalinda Brewing Company's "Brix Project" Eyes Late Summer Opening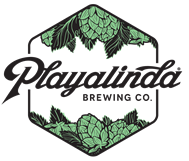 Playalinda Brewing Company's "Brix Project" Eyes Late Summer Opening
Titusville, FL. – A year and a half after opening Titusville's first craft brewery, the owners of Playalinda Brewing Company are expanding with the launch of the Brix Project. Slated to open in late summer at the site of a former lumberyard on U.S. 1 south of downtown Titusville, the Brix Project will feature a brewpub with 20 taps, a restaurant, and a beer garden.
The new 16,000-square-feet complex from the founders of Playalinda Brewing Company, Bryan and Donna Scott and Ron and Katie Raike, will also include a production brewery outfitted with a 1000-gallon stainless brew system. The state-of-the-art equipment paves the way to distribute Playalinda Brewing Company's acclaimed beer to restaurants, bars and retailers across Florida.
"The people of Titusville have been incredibly supportive of Playalinda Brewing Company since day one," said Brewmaster Ron Raike, who is one of only a few certified master cicerones in Florida. "The new Brix Project venue and production brewery makes it possible for us to expand our product line locally at both Titusville locations, while also opening the door for statewide distribution."
The Brix Project name is in reference to the Brix degree scale, which is used in brewing and distilling to measure sugar content during the fermentation process. In addition to the production brewery, the Brix Project will also house a distillery that produces small batch vodka, rum and gin. The handcrafted spirits will debut in 2017.
"Everyone at Playalinda Brewing Company is very happy that all the pieces came together to allow us to open the Brix Project in Titusville," said Bryan Scott, who along with wife Donna also own and operate Titusville-based Barn Light Electric Company, an award-winning lighting manufacturer. "We expect to create 25 new jobs by opening day and even more as the brand continues to grow."
Several positions at the Brix Project have been filled, including the recent hire of Justin Medina, who will serve as the restaurant's executive chef. Medina will lead all culinary efforts at the Brix Project, including developing a menu that will feature a variety of wood fired grilled dishes.
Ian Colston has also joined Playalinda Brewing Company as director of sales for the production brewery. Colston, who previously worked at Brown Distributing, brings more than a decade of Florida craft beer sales experience to the Brix Project, where he will work with restaurants, bars and retailers across the state to deliver Playalinda Brewing Company products.
Details regarding the hiring process for open positions at the Brix Project will be announced in the near future.
Playalinda Brewing Company's original "Hardware Store" location in downtown Titusville will continue to brew house beers on site and offer daily food and drink service as well as live music nights and specialty beer events.
For more information visit www.PlayalindaBrewingCompany.com.
Playalinda Brewing Company Brewmaster Ron Raike at the Brix Project production brewery
MEDIA CONTACT:
Bo Morris – Story Farm
407.808.3310/BoMorris@Story-Farm.com