Space Coast Economic Development Commission
The Space Coast Economic Development Commission (SEDC) is a not-for-profit corporation, supported by both public and private funds.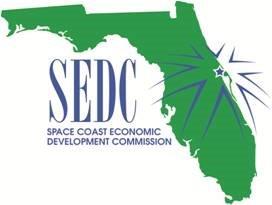 With the exception of a small professional staff, the SEDC is a volunteer organization. Its membership roster includes a wide spectrum of industries from service to manufacturing. The SEDC team provides a complete development program, striving to attract assistance to firms that are already doing business in Titusville, Florida, and North Brevard.
Our Mission: To assemble, focus and apply the resources necessary to launch diversified and quality economic growth in Titusville and North Brevard.
How We Are Organized: The SEDC is comprised of an Executive Board of Directors, a General Board of Directors, and its general membership.
The Executive Board of Directors is elected annually.
The General Board of Directors is elected for two-year terms.
Combined meetings of Directors and the membership are held the third Wednesday of the month at 4 PM at the Chamber of Commerce office.
Annual elections are held in September with elected officials taking office in October of each year.
Administrative functions for the SEDC are managed by the Titusville Area Chamber of Commerce.
How We Are Funded: SEDC is funded through a public/private partnership.
How We Can Help You: The SEDC represents the local business interests of North Brevard. If your company has an individual economic development issue, the SEDC is ready to help facilitate its resolution.
Business Recruitment: The SEDC's goal is to create an economic climate where new business or businesses interested in relocating recognize that North Brevard offers them outstanding opportunities. We work hard and think outside of the box to entice new business to the Titusville area.
Local Business Retention & Expansion: As in most geographical areas, the greatest increase in jobs generally comes from existing businesses. The SEDC is primed to help maintain and expand its North Brevard/Titusville area presence. The SEDC is ready to help existing business or businesses in expansion and development within our community. The SEDC considers this to be one of its most important duties and is a primary goal.
Marketing: Through a variety of marketing methods, the SEDC advertises and promotes the Titusville and North Brevard area to potential relocations and expansions.
A united voice for Local Business in North Brevard
Whatever the issue, the SEDC represents the local businesses interests of North Brevard.
If your company has an individual issue, the SEDC is ready to help you in its resolution.
The SEDC provides special networking evenings for a variety of local business people to meet together and discuss options and assists in requests from the local business and the community.
Central Source of Interagency Information: The SEDC works closely with other agencies and organizations, such as:
Membership in the SEDC is open to any business entity in the North Brevard area. For more information about the SEDC, please contact Jennifer Giddens at 321-267-3036 or giddens@titusville.org.