Birds Do It, Let's Do it, Let's Fall in Love
Fly South to Titusville for the Winter
(with lyrical apologies to Cole Porter)
Winter is here, which means in our territory, so are the birds.  Roseate Spoonbills, Chickadees, Sandpipers, Woodpeckers, Kingbirds, Storks, Herons and plenty of others can be found on the Space Coast (click here to download the full list).
And the people follow. This is recognized as a great time to find  yourself in Titusville, Florida.
There is just no downside to winter in Florida. This season for us means an influx of migratory birds and the annual Space Coast Birding and Wildlife Festival which is recognized round the world as one of the finest birding festivals.  Dates this year are January 24-29, 2018, so get that airplane ticket and your hotel reservations if you want to be here for this year's birding extravaganza.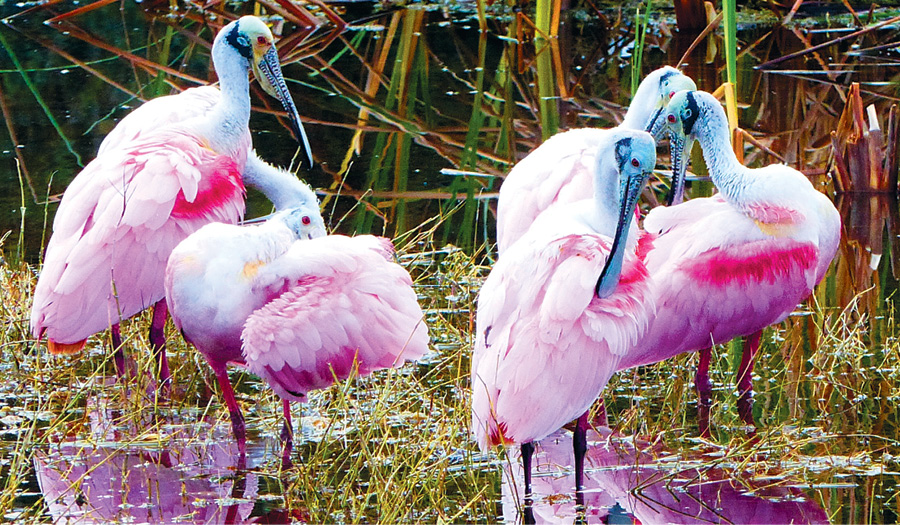 Meanwhile, we can fill you in on some of the high points of being in Titusville on Florida's Space Coast in January or February.
Ok, so maybe you will need the occasional long sleeved shirt or light jacket, but mostly the sun reigns and hikes in the Merritt Island National Wildlife Refuge or along Canaveral National Seashore are weather perfect. People kayak and fish all year long here and just stop long enough to chow down on locally famous rock shrimp and other fresh caught seafood delicacies.
Plus this location, Titusville Florida, is the place where three major cycling trails converge…the Coast to Coast Trail across Florida, the St. Johns River to Sea Loop, which heads north from Titusville and back again, and eventually the East Coast Greenway which will meander from Maine to Key West for more than 2900 miles.
Adventures Converge Here.
Important dates to remember:
January 24-29 Space Coast Birding and Wildlife Festival – www.spacecoastbirdingandwildlifefestival.com
February 24  We're Blazing Trails, Cycle Fun Day (official dedication weekend for new trails and trails connections around Titusville) – www.titusville.org/blazingtrails
March 17 – 23 Bike Florida's Spring Tour (multiday celebration with rides and knowledgeable ride leaders, and other activities) – https://bikeflorida.org/spring-tour/
One thing you should know, you'll get A Warm Welcome.
The people here are willing to share their knowledge of the area, where the spoonbills are nesting, where to find the manatees, where to launch your kayak, what time of day to be at Scottmoor Flats for a convergence of birds.  And where to get a bike, kayak, standup paddle board, fishing tour guide or a local brew.
So…Birds do it (check). Bees do it (check). Dragonflies in the reeds do it (check).
Even lazy (lovely) jellyfish do it (check). Courageous Kangaroos do it (well, we have them here at the zoo)
So get on down here.
What's not to love?
Again, apologies Cole.