RIDING INTO THE FUTURE
Titusville, Florida is about people going places—a quintamodal community to be exact—with highway, rail, marine, air and space pathways. Titusville is where rockets take off and first stages land precisely back on a launch pad or on a barge in the ocean, where crowds of people line the causeways looking up at their first launch or perhaps their 50th.
We've always been a community that likes to look up, in particular to the sky as a plume shows us where an Atlas, a Delta or a Falcon has just passed through. We note with pride the accomplishment we see and dream of the next place we'll go. Titusville, Florida has always been about transportation and adventure.
So maybe it's not surprising that we are seeing another wave of transportation growth on the ground, bicycles traveling on trails converging here. It's right and fitting that three major cycling trails are being pieced together with Titusville as the central point, quickly becoming 'a trail town' transporting people to other kinds and sizes of adventures on the backs of fancy racers, wide tire bikes, tandems, dirt bikes, and on horseback or roller skates.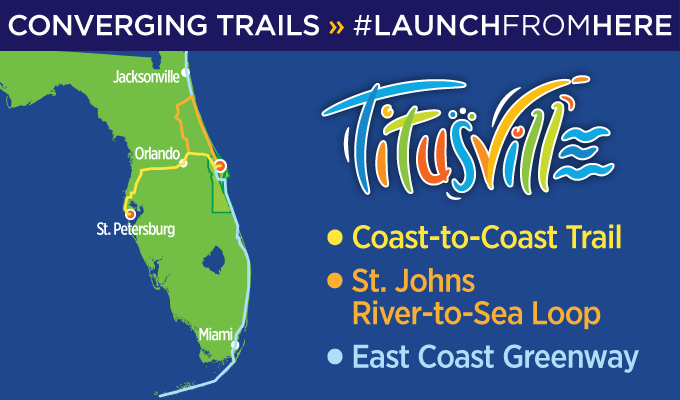 Titusville is the point at which trail dreams come together–the Coast to Coast Trail (250 miles of trail from St. Pete on Florida's west coast to Playalinda Beach on the east coast), the St. Johns River to Sea Loop (260 miles pushing north from Titusville through five counties and back again), and the East Coast Greenway (a 2900 mile trail that will go from Maine to Key West).
In Titusville, on a Saturday here you can see single riders, families and group rides taking off from the Welcome Center downtown, which also houses bike rentals and sales, helmets and water bottles, pocket maps and good cheer. On any given day, someone else stops driving to work and starts cycling to work, where the culture is changing and the population is taking advantage of the joys and the healthy options the trails provide.o
MARK YOUR CALENDARS … On February 23-24, the idea of converging trails becomes much more real with an official 'dedication' and a big riding fest on Saturday (Feb 24) called Cycle Fun Day in Titusville. It's a chance for people in communities around Titusville to celebrate, coming out for a fun bike ride (from a 5 miler to 10, 20, 30 and 40 mile ride choices) with an After Party at the finish line in Sand Point.
Park nearby. Get out the bike, dust off the helmet, and register at this link because there's never been a better time or better reason to get back on that bike.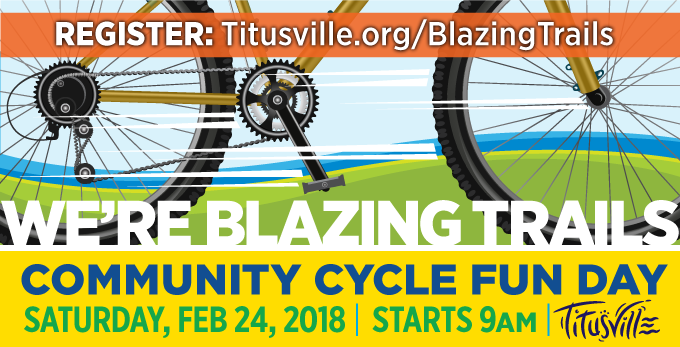 Titusville understands about launching the next great adventure, and perhaps more than many towns, it's ready, always ready to go—there's a tradition of taking it to the next level.
Saturday February 24th is a day to remember so register now. Don't miss out on the fun or be the only one without a souvenir t-shirt (it is guaranteed with ride registrations before February 15th).
We're BLAZING TRAILS in Titusville. And you can be part of it. #BlazingTrails  #LaunchFromHere #SpaceCoast #GoTitusville